Frequently Asked Questions. Scroll down for Guest comments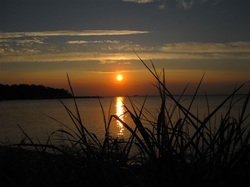 Q: Is the rental available for XX/XX dates and what are the rates?
A: Availability and rates can be found on the
Availability
page of our web site. Bookings and rates are kept current.
Q: Can I rent the house for the weekend?
A: Rentals are weekly and Saturday to Saturday. If the property is not rented two weeks in advance of an upcoming week, then we will consider partial week rentals (3 day minimum). Contact us for details
Q: How do I make a reservation?
A:
Call or e-mail us
with your dates and we'll send you a rental agreement to sign along with payment instructions. Cash, personal check and credit card accepted. A
rental guarantee
is available if you book through HomeAway.com or VRBO.com
Q: How far is it from the house to the
beach
pictured on your website?
A: The beach is about 350 yards from the home. It is a pleasant walk past a meadow and a pond, then though some woods. You can also drive down this path to the beach (especially helpful with kids, sand buckets, fishing gear and associated paraphernalia)
.
Four wheel drive is not needed. The river is not visible from the house.
Q: The beach is beautiful. Is it a park?
A: No. The home and beach are part of an 80 acre private retreat. This means that you will have the whole place to yourself. Once you step out the back door, the only people you will see are the ones you bring with you. We consider ourselves fortunate to be the owners of this unspoiled natural oasis.
Q: Are the photos really from the property?
A: Yes, believe it or not. The girl on the beach is our daughter and the boy fishing is our son.
Q: Your web site says "Bayfront" but the property is on the Nanticoke river. Which is it?
A: Technically, the property is on the Nanticoke "River", but, as you can see from the
photos
, the river is a full two miles across, has a two to three foot tidal swing, and is brackish (salty), so we felt that the term "riverfront" was not an accurate description. For marketing purposes we have opted to use the scenically accurate, but geographically inaccurate term "Bayfront".
Q: How is the swimming?
A: The swimming is great and it is one of our favorite activities. The river warms up quickly so you can comfortably swim from May through the end of September. The bank slope is gentle and the waves are small so it is great for small children. The bottom is sandy. There can be an occasional oyster shell on the bottom so we recommend beach shoes and non swimmers should wear a life jacket.
Q: How is the fishing?
A: Great. A weekly Chesapeake fishing report is posted
here
. We usually fish from the beach for croaker, white perch, rockfish, and of course crabs (we have registered crab trap for your use). Sea trout, bluefish, catfish, and spot show up as well. Yellow perch fishing is closed on the Nanticoke. There is also a 3 acre fresh water pond stocked with bass. No license is needed for fishing in the pond, but we do ask you practice catch and release in the pond. A free registration is required for fishing from the bank, and a paid
license
is needed for fishing from your boat. Fishing charters are available.
Q: How do I get my Maryland fishing Registration?
A: To fish in Nanticoke River from our beach, Maryland now requires anyone over the age of 15 to obtain a
FREE registration
. You must first
create a user account
and then register as a "salt water angler". Print out your registration and make sure you have it with you when you are fishing. To fish from a boat, you need either a boat license, or an individual fishing license available though the same links. You can catch up to 2 dozen male hard crabs using our crab pot or hand lines. Using a trotline or collapsible crab traps requires a crabbing license.
Q: Can I bring my boat?
A: Absolutely! There is a marina and boat ramp with free parking a mile north of the house. The Nanticoke is a wonderful and undiscovered sailing destination and the
marina
has overnight slips available. Our property does not have a deep water dock, but small power boats can easily be beached for access directly from the beach. This is a great place for kayaking and canoes and you can rent one in Salisbury at
Survival Products
. Blackwater National Wildlife refuge sits directly across the river.
Q: What are my dining options and how far is it to Ocean City?
A:
"Boonies
", a full service restaurant and bar, is a 2 minute drive. Salisbury, with
many dining options
, is a 25 minute drive away. For a crab feast we recommend
"The Red Roost
", a twelve mile drive. If you want a taste of the nightlife, Ocean City is an hour drive.
Q: I heard about bioluminescent plankton in the bay. Do you have that?
A: Yes, if you're lucky. It depends on the weather, but your best bet for this natural wonder is the end of August and first 2 weeks of September. On a good night, the
bioluminescent plankton
in the bay will make an evening splashing in the water something you will remember for the rest of your life.
Q: Are there Sea Nettles in the river?
A:
Sea Nettles
are a stinging jelly fish found in late summer in the Chesapeake Bay and can deliver a mild sting to an unwary swimmer. Fortunately, because the
salinity of the river
is low, we have very few and only late in the summer during dry years. If no jellyfish are washed up on the beach, you can be confident that there are none in the water. In ten years of swimming in the river with our four small children, family, and friends, we've had only two stings. Check here for a
Sea Nettle forecast.
Q: How about hunting?
A: The Delmarva Peninsula and the Eastern Shore of Maryland are popular hunting destinations and Bivalve's rural location is ideal for deer, turkey and waterfowl hunting. Our home makes an ideal base of operations for the hunter who may want a warm bed, a bathroom, and a kitchen. No hunting is allowed on our property, but extensive public and private hunting land is nearby (
DNR website, scroll down to Wicomico).
---



Read what our guests have to say about their stay:

07/10/2008. "We loved the private beach, the sunsets, and the fishing. The sunroom was our favorite room."
The Gunzburgs, Alexandria Virginia

07/19/2008 "We had a great time. Ocean City is close by and the seafood was great. Thank you for sharing your vacation home. The sun room was wonderful."
The Hightlands, Indianapolis Indiana

09/10/2008 "We were here for our 1st anniversary. Everything was so nice and peaceful. We spent lots of time at the beach. We've rented lots of houses and this one was the best with details for a nice vacation. You have a lovely home. Thanks for renting it.
The Cartons, Washington DC

05/23/2009 "Your home is so comfortable and accommodating. Your property is absolutely perfect, from the great rural setting, to your private beach and pond. We had a great time fishing both the river and the pond catching and releasing big and little 'fishies' alike."
The Meskos, Pennsylvania

06/08/2009 "We enjoyed mornings in the sun room playing, eating and watching the birds. This is much better than a hotel."
The Osbornes

06/25/2009 "The house is so cute. The little girls room in particular is charming. We loved the beach and we caught many fish at the pond."
The McGhees, Maryland

07/04/2009 "Thank you so much! The house was great! The kids loved the beach and water. The fishing was AWESOME! I got bit by my first crab...OUCH! We all had a blast and are ready to come back next year."
The Channells, West Virginia

07/18/2009 "We loved our vacation here! The beach was very quiet and relaxing. We loved the gentile, calm water. Our girls spent all day in the water- and we weren't worried about them like we do at the ocean. We will never be able to do a resort beach ever again- we are forever ruined (or spoiled) by this property."
The Jack family, Maryland

08/16/2009 "Thank you so much for letting us stay here. I had an amazing time with my family. The house was clean and comfortable. I also loved the beach. The water was very warm. I loved the fishing and having some crabs."
J. Shackelford

10/11/2010 "We had a wonderful time at Nanticoke. What a lovely home! We loved the layout and thought Nanticoke would be the perfect place to bring our kids if we decided to do a family vacation. We even saw a red fox on one of our walks to the river. We made a bonfire under the stars and watched Columbus fireworks. It was a perfect weekend. "
The Boyle Family

9/12/10 "Before I close, I wanted to say that our two children insisted that
your place should be the only vacation destination to be considered for next year. The matter was closed, as far as they were concerned. I think that they loved the autonomy that your place allows. They loved riding their bikes to the beach, at the crack of dawn, while my wife and I were still fumbling around for our coffee mugs. We adults (my wife's sister came down from D.C. for a couple the nights) all loved it too, but the kids found a paradise. They, kind of, got a vacation from adults! When we chose your place last year we told the kids that we would drive, a couple of times, across the peninsula to the ocean beaches. The adult idea behind that plan was that it would the break up the solitude and childhood boredom. Those plans were squelched, unanimously.
The Emerson Family